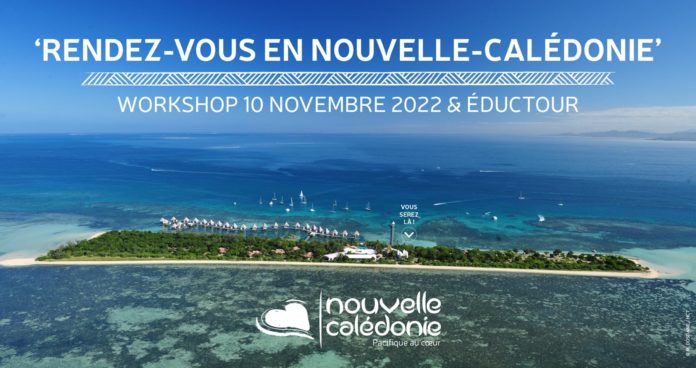 On 10 November, the sixth edition of the 'Rendez-vous in New Caledonia' workshop, organised by New Caledonia Tourism with the support of Aircalin and a number of local service providers, will take place at the DoubleTree by Hilton Noumea Îlot Maitre Resort. More than one hundred Caledonian tourism professionals and foreign resellers will embark upon an intense day of professional speed dating to renew or develop their business relationships.
After five successful editions from 2015 to 2019, the 'Rendez-vous in New Caledonia' workshop from New Caledonia Tourism has established itself as the must-attend event for New Caledonian international tourism professionals. After two years of absence due to the Covid crisis, local service providers and foreign tour operators are eager to finally meet face to face to maintain their professional relationships and establish new partnerships.
This year, on Thursday, 10 November, 29 Australian, Japanese, New Zealander, French and Singaporean tour operators are invited to join representatives of 43 tourism companies on the island to participate in more than 500 15-minute meetings in the unique and idyllic setting of the Îlot Maître. The entire event will feature entertainment, including the Wet Drehu traditional dance troupe, a pétanque tournament and a bushman barbecue.
As Julie Laronde, Executive Director of New Caledonia Tourism explains, "Rendez-vous in New Caledonia" is quite the professional marathon, but it gives an opportunity, at least once a year, to local providers of all sizes to interact with the international market at home and avoid travel expenses! It's a great tool for quickly introducing the destination and its diverse tourism offerings to international resellers. After the health crisis that led to a general turnover of foreign tour operators, it was time to truly show them the richness and authenticity of local tourism to encourage them to renew their commercial partnerships and diversify their vacation packages to New Caledonia."
Additionally, as a complement to the workshop and through the invaluable support of New Caledonian transportation professionals, hoteliers and activity providers, international resellers will enjoy a 3-5 day tour of the country to immerse themselves in the destination and experience its tourism in order to better recommend it to their clients and sales teams. The approximately thirty guests of NCT will be split up and will tour Noumea, Yaté, Farino, Bourail, Koné, Hienghène, Ouvéa, Lifou and l'Île des Pins.
---

WORKSHOP AGENDA:
7:00 am: Ferry for tour operators to the Îlot Maître then visit the DoubleTree
8:00 am: Ferry for New Caledonian service providers to the Îlot Maître
8:30 am: Opening remarks from Mickaël Forrest and Julie Laronde
9:00-11:30 am: Speed dating
11:30 am: Kanak dance show
12:00-1:30 pm: Bushman barbecue
1:00 pm: Pétanque tournament for tour operators
1:40-5:30 pm: Speed dating
6:00 pm: Ferry for tour operators to Nouméa
7:00 pm: Ferry for New Caledonian service providers to Nouméa
---

NCT MEDIA CONTACT:
Philippe ARTIGUE
p.artigue@nctourisme.com / +687 24 20 75
---
About New Caledonia Tourism
New Caledonia Tourism (NCT) is an economic interest grouping (EIG), making connections between its institutional partners and professionals in the sector, to ensure the tourism promotion of New Caledonia at the international level, under its brand " New Caledonia, Pacific Heart". Founded in 2001, the grouping, now under New Caledonia government authority, is based in Nouméa, but also has representation in Australia, New Zealand, Japan and metropolitan France.
Tel : (687) 24 20 80 / Mail : info@nctourisme.com
20, rue Anatole France – Immeuble Nouméa Centre / BP 688 – 98845 Nouméa Cedex
Ridet : 629618-001 / RCS : Nouméa C 629 618