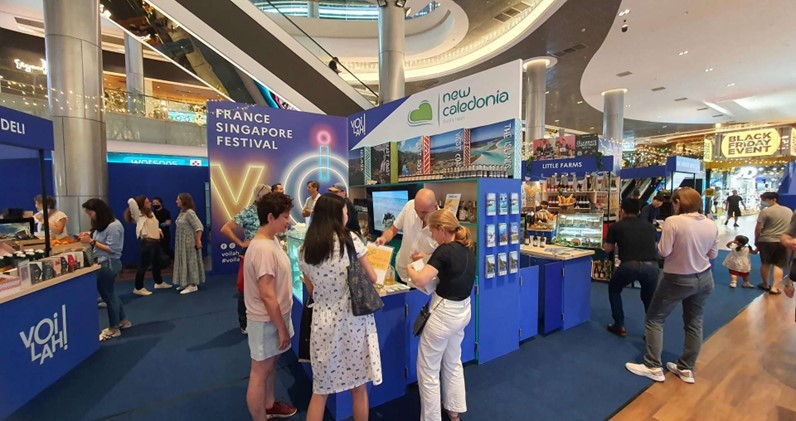 "French Film Festival", "Choose France! Education And Career Fair Asean", "French Food Market", "Taste & Test New Cal"… As a sponsor of the vOilah! France Singapore Festival, held by the French Embassy from 26 October to 27 November 2022, New Caledonia was able to showcase its many tourist and cultural attractions, demonstrating the quality of its local products to crowds of Singaporean Francophiles and French expatriates.
To support the economic relations between New Caledonia and Singapore, which were bolstered by the arrival of the Aircalin airline on 1 July, the Government of New Caledonia provided support to help several New Caledonian institutions participate in the "vOilah! France Singapore Festival": New Caledonia Tourism (NCT), Aircalin, New Caledonia Trade & Invest (NCT&I) and CREIPAC.
Held from 26 October to 27 November 2022, this prestigious festival, which has been organised by the French Embassy and the other national institutions in Singapore (Alliance Française, French Chamber of Commerce, French Institute of Singapore, etc.) for over 15 years, aims to strengthen the friendship between France and Singapore. It encompasses fifty public events showcasing French culture, education, science and "l'art de vivre". It was therefore an ideal opportunity to promote New Caledonia to a huge audience of French expatriates and Singaporean Francophiles!
New Caledonia made an appearance in all the festival's general promotional materials (advertisements in the programme and on the website, social networks and posters), and the archipelago was also represented at the following events: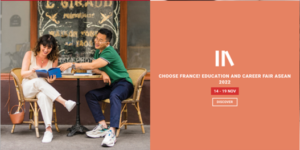 2ND CHOOSE FRANCE! EDUCATION & CAREER FAIR ASEAN 2022
From 15 to 19 November 2022, two local educational institutions, CREIPAC and UNC, were invited to participate in this online fair to facilitate academic exchanges, language programmes and research endeavours involving students from New Caledonia and 9 ASEAN countries.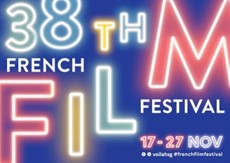 38TH SINGAPORE FRENCH FILM FESTIVAL
During the French Film Festival, held from 17 to 27 November, more than 10,000 viewers from Singapore watched a 30-second promotional video for New Caledonia before each of the festival's 150 film screenings. Additionally, discussions are underway with the Singapore Alliance Française to broadcast eight New Caledonian short films at the next Francophone film festival in March 2023.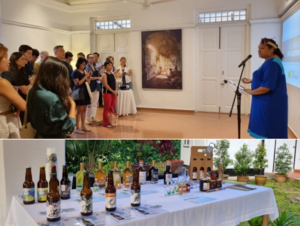 1ST TASTE & TEST NEW CALEDONIA
On 24 November, more than 100 Singaporean tourism and media professionals, restauranteurs and wholesalers were invited to a New Caledonian evening at the French ambassador's residence. After an in-depth presentation on the destination and its tourist attractions by NCT, the participants were able to sample a variety of local products, prepared by the embassy chef and explained by NCT&I. This event was a great success, attracting new business partners for New Caledonian exports and tourism.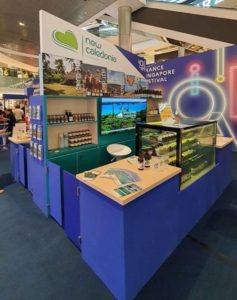 1ST FRENCH FOOD MARKET
On 26 and 27 November at ION Orchard, one of Singapore's busiest shopping centres, New Caledonia took centre stage at this inaugural French farmer's market as an event sponsor.
At the large central stand, decorated in the colours of New Caledonia, a delegation of local producers, selected by NCT&I for their export potential, offered Singaporean customers the chance to sample and buy their shrimp, fresh tuna, honey, craft beers, rum, vanilla extract, coconuts, lemons and kaffir limes…
At the same time, NCT and Aircalin ran a tourist information counter to showcase the destination's attractions and entice visitors with a special travel offer from Aircalin and an online contest to win two return tickets from Singapore to Nouméa (offered by Aircalin).
By highlighting its products, tourist sites, culture and transportation, vOilah! Festival introduced New Caledonia to thousands of Singaporeans. New Caledonia is therefore continuing to make inroads into the Southeast Asian markets thanks to the support from the Government of New Caledonia and the collaboration between its various export agencies: Aircalin, which provided free transportation for the delegations and goods; NCT&I, which supported the producers in their export efforts; CREIPAC, which promoted the French education and culture in the territory; and NCT, which coordinated this operation and led the international tourism promotion efforts.
---

NCT PRESS CONTACT:
Philippe ARTIGUE
p.artigue@nctourisme.com / +687 24 20 75
---
About New Caledonia Tourism
New Caledonia Tourism (NCT) is an economic interest grouping (EIG), making connections between its institutional partners and professionals in the sector, to ensure the tourism promotion of New Caledonia at the international level, under its brand " New Caledonia, Pacific Heart". Founded in 2001, the grouping, now under New Caledonia government authority, is based in Nouméa, but also has representation in Australia, New Zealand, Japan and metropolitan France.
Tel : (687) 24 20 80 / Mail : info@nctourisme.com
20, rue Anatole France – Immeuble Nouméa Centre / BP 688 – 98845 Nouméa Cedex
Ridet : 629618-001 / RCS : Nouméa C 629 618