Surrounded by a 200-hectare marine reserve near Noumea, the DoubleTree by Hilton is the only establishment in New Caledonia to offer overwater bungalows.
The fifth hotel in the South Pacific and the latest addition to the DoubleTree by Hilton portfolio, the DoubleTree by Hilton Noumea Ilot Maitre Resort has just opened its doors in New Caledonia. The former L'Escapade hotel has been upgraded after 11 months of renovation. The décor relies upon the natural beauty of the location in addition to its contemporary interior design. A new setting coveted by fans of a chic and relaxed atmosphere.
An island experience in the heart of the Pacific
DoubleTree by Hilton Noumea Ilot Maitre Resort invites travellers to a unique island experience in the heart of the Pacific, on Ilot Maitre, a 25-minute boat ride from Noumea. A true haven of tranquillity, this location is perfect for travellers looking for an exclusive setting: a 200-hectare marine reserve, a turquoise lagoon listed as a UNESCO World Heritage Site, overwater bungalows, white sand beaches and natural surroundings complete the magical setting of this small paradise.
The establishment houses 64 rooms, divided into overwater bungalows and villas decorated in a minimalistic and contemporary style with natural materials such as wood and thatch (roofs) which blend harmoniously to create an atmosphere that's conducive to contemplation.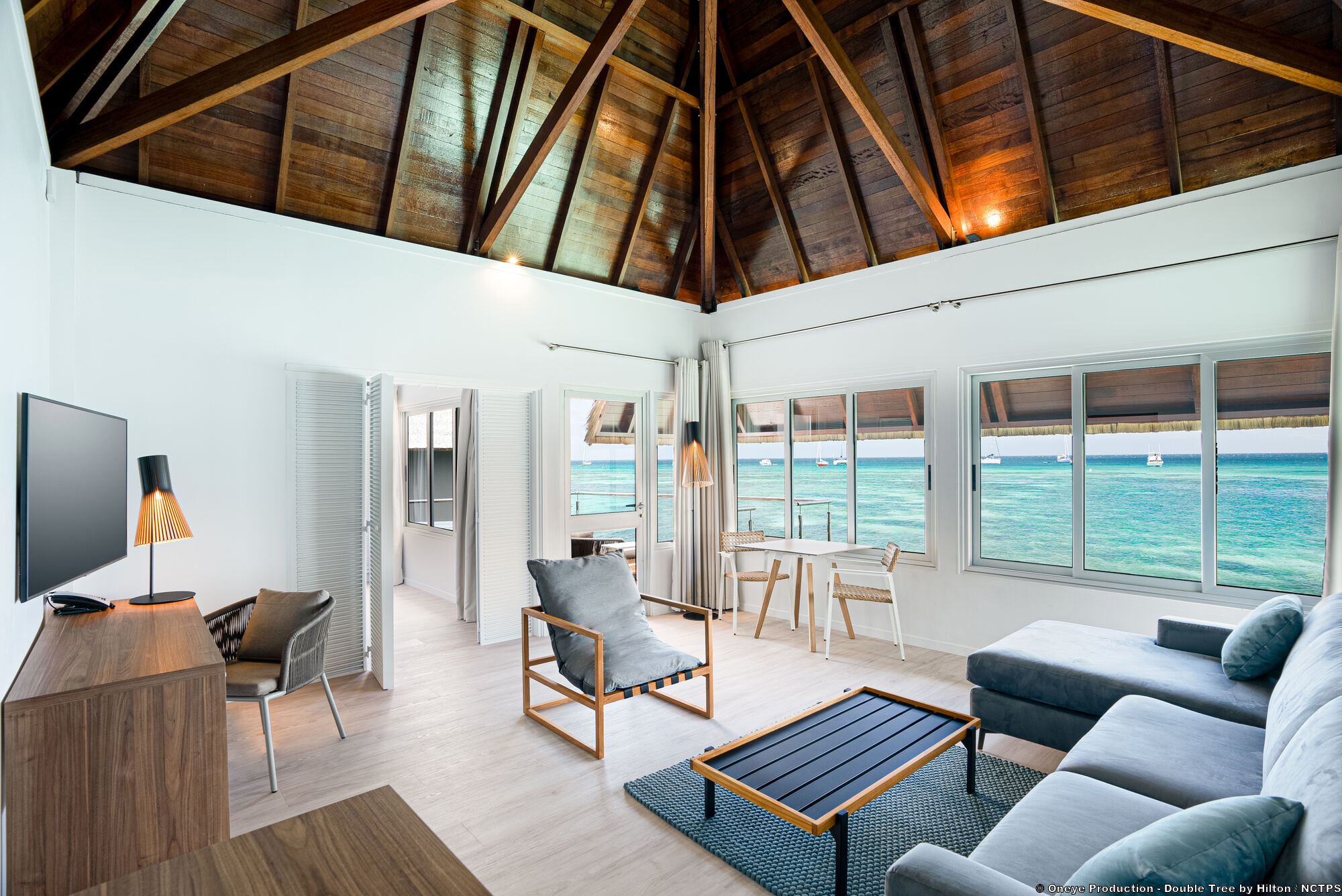 A fitness centre, an outdoor pool facing the sea and a water sports facility complete the grounds.
As far as dining, L'Escapade offers fresh buffets of seafood and local products while Le Sunset Bar and La Boussole Beach offer refreshments and/or snacks throughout the day.
Private meetings
Equipped with a 56 m2 meeting room located in the tropical gardens and offering a breathtaking view of the lagoon, the DoubleTree by Hilton Noumea Ilot Maitre Resort can accommodate all types of meetings for up to 150 people.
– To learn more, click here
– 300 DPI HD visuals available here
© Oneye Production – Double Tree by Hilton / NCTPS
Press contat : Marianne AGULHON m.agulhon@nctps.com – +687 24 20 80
About Nouvelle-Calédonie Tourisme Point Sud (New Caledonia Tourism)
New Caledonia Tourism Point Sud (NCTPS) is an economic interest grouping (EIG), making connections between its institutional partners and professionals in the sector, to ensure the tourism promotion of :
New Caledonia at the international level, under its brand " New Caledonia, Pacific Heart".
The South Province on the local market, under its brand "Destination South Province".
Founded in 2001, the grouping, funded by the South Province and the contributions of local professional members, is based in Nouméa, but also has representation in Australia, New Zealand, Japan and metropolitan France.