2020 has been an extraordinary year, with the COVID-19 pandemic seeing the closure of international borders – much to travellers' dismay! However, New Caledonia has found a creative way to give Aussies and Kiwis a taste of its lagoon-lined shores and keep the dream of travel to the South Pacific destination alive for consumers with its new campaign: New Cal Uploading.
In line with the name of the campaign, the idea was to 'upload' a slice of New Caledonia online, to allow Aussies and Kiwis to immerse themselves in the sounds, tastes and natural beauty of the destination from home and while travel isn't possible.
Launched in May, 2020, the campaign includes three phases, each featuring elements responding to current travel restrictions and trade and consumer trends:
Phase one – New Cal, virtually (May – June, 2020)
When international borders closed in March and much of Australia and New Zealand went into lockdown, Aussies and Kiwis began seeking out unique ways to experience the world from home. New Caledonia Tourism created a virtual hub on its website, packed with video and image content created by the tourism body and its partners that would showcase the destination – albeit from a distance. Aussies and Kiwis could take a 360-degree tour of New Caledonia's lagoon, enjoy French recipes from local chefs or stretch it out with a yoga session filmed in Noumea's aquarium, and more. Phase one was launched with a media alert for key trade contacts, targeted pitching to consumer media, social media promotion and targeting, and an EDM to New Caledonia Tourism's consumer/trade database and industry EDMs. It was also promoted across the social media channels of New Caledonia's partners.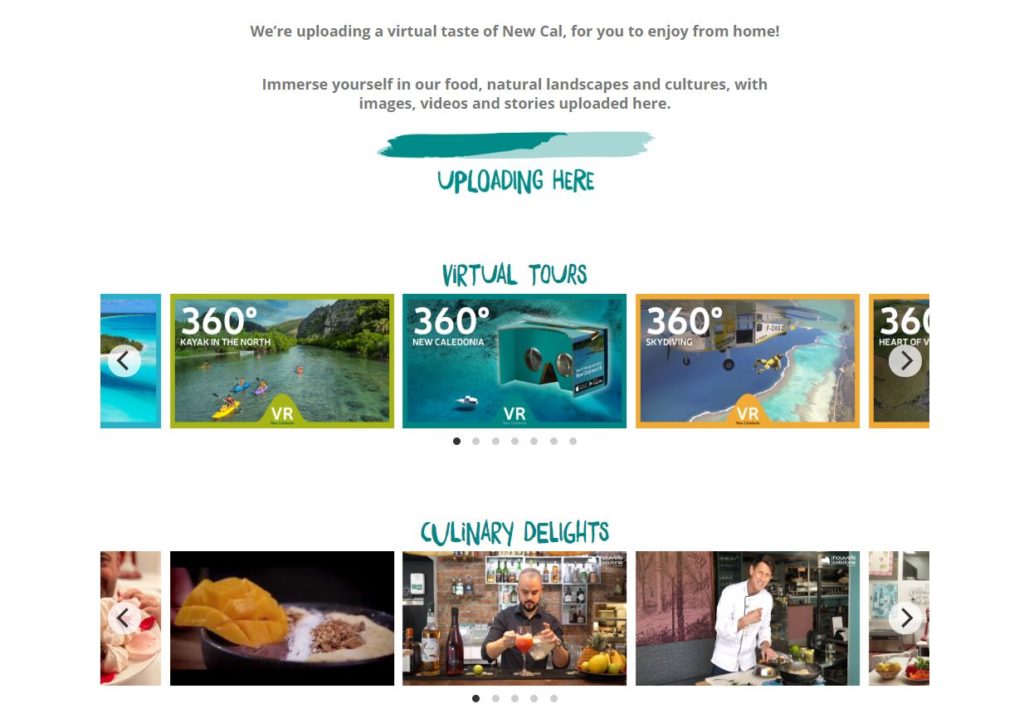 Phase two – memories of New Cal (July – August, 2020)
Knowing travel memories are often some of our most cherished, in this second phase New Caledonia invited Aussies and Kiwis to reminisce upon their favourite experiences in the destination. Throwbacks to New Caledonia's past campaigns and projects were uploaded to the virtual hub on newcaledonia.travel, allowing Aussies and Kiwis to: take in an exclusive music video shot in destination by Aussie band Crooked Colours; daydream about postcard-perfect shots of island shores from famed Aussie photographers Aquabumps; or learn how to explore the best of New Caledonia in a week, for less than $1,000, with the adventurers at We Are Explorers. In addition to this, Aussies and Kiwis were encouraged to join the conversation and upload their favourite flashbacks of New Caledonia via social media using the hashtag #NewCalUploading. The best shots were featured on New Caledonia's Facebook and Instagram feeds for all to enjoy and also went into a draw to win prizes from camera company, FujiFilm. Phase two was promoted via media outreach, social media promotion and targeting, industry EDMs and outreach to key influencers and personalities to join in and share their New Caledonia throwbacks.
Phase three – dreaming of New Cal (late 2020)
Phase three is yet to launch and will focus on inspiring Aussies and Kiwis with practical information to choose New Caledonia for their next trip. It will debut when there is more clarity around both Australian, New Zealand and New Caledonian borders reopening, and will invite New Caledonian locals and Aussie and Kiwi travel agents to share their best insider tips for making the most of a visit to the destination. The tips will be produced into a campaign video that will sit on New Caledonia's virtual hub, showcasing the incredible experiences Aussies and Kiwis can enjoy so close to home. Promotion will include social media targeting, media outreach, media and influencer famils, industry EDMs and more.
How to get involved?
New Caledonia Tourism welcomes agents, wholesalers and industry friends to join the conversation too! Your support is invaluable to keep the dream of travel to New Caledonia alive while borders remain closed. Please see linked here to a range of social media content – we invite you to share across Instagram and Facebook with the hashtag #NewCalUploading. 
New Caledonia Australia and New Zealand press contact:
Abbey Sands – Public Relations Manager (a.sands@nctps.com)